Silver Economy events
The 4th European "Silver Economy in Europe" took place Limoges (France). It was hosted by the SEN@ER partner Conseil Régional Limousin from 28 - 29 January 2010. The conference included a roundtable on "Regional silver economy and ageing strategies - examples and lessons learned" with experts from different European regions and a series of parallel workshops followed by site visits and a public debate on the second day which took place in the Hotel de Région.
More information on this event is available at:
www.region-limousin.fr/4e-conference-Silver-Economy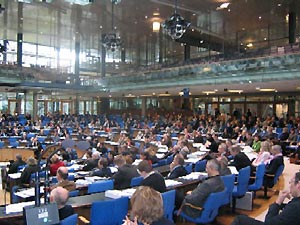 A picture seldom seen: Full ranks in the old
"Bundestag" during the Silver Economy conference
2005.
Source: www.seniorenmarkt.de
The 3rd European Silver Economy Conference took place in the beautiful Spanish region of Andalucia. The Department of Equality and Social Welfare of the Junta de Andalucía (Regional Government of Andalusia) organised the conference in the Palacio de Exposiciones y Congresos in Seville on the 15th and 16th of November 2007.
More information on this event is available here...
and on the official conference websites
http://www.silvereconomy2007.com/
The 2nd "Silver Economy in Europe 2006" conference took place in Maastricht/NL.
More information on this event can be found on the website http://www.silvereconomy2006.nl.
In February 2005 the 1st European Conference and Competition were held in Bonn/Germany. With more than 600 participants at the conference and a total of 70 submissions to the competition, both events were a great success.
More information on